How Much Does a Medical Billing Service Cost?
In general, a medical billing service is going to cost somewhere in the neighborhood of 7% of the collected revenue. This guide from Kwote Advisor will help you calculate the cost of outsourcing medical billing for your healthcare practice.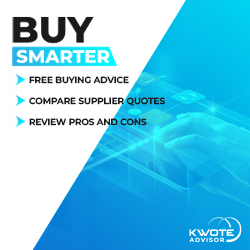 If you're like most healthcare practices, you probably don't have the time or resources to manage your medical billing. That's where a medical billing service comes in. But how much does a medical billing service cost? And is it worth the investment?
In this comprehensive guide, we'll break down the cost of medical billing services and help you decide if it's the right solution for your practice. We'll also provide you with a list of some of the best medical billing companies and what they offer.
What Is Medical Billing?
Medical billing is the process of submitting and following up on medical claims with insurance companies. The goal is to receive payment for services rendered by a healthcare provider.
This often involves navigating complex insurance policies and codes. It also involves communicating with patients about their responsibility for payment.
The medical billing company acts as a liaison between the healthcare provider, the insurance company, and the patient. This means that they ensure that all parties understand and fulfill their financial obligations.
In short, medical billing is a crucial aspect of running a successful healthcare practice. Without it, you may not be able to sustain yourself financially. This affects your ability to provide quality care to your patients.
How Much Do Medical Billing Services Cost?
The cost of hiring a medical billing service varies depending on the specific services offered and the size of your practice. A smaller practice may pay a flat monthly fee, while larger practices may have a per-claim fee structure.
In general, the cost is between 5 to 10% of collections. You might find some companies that charge over 10%. These companies often justify those prices with premium services and add-ons available. This is what makes the increase in price well worth it.
When considering the costs of these services, it's also important to consider the potential savings from using a medical billing service. They can greatly increase efficiency and accuracy in billing. This leads to faster reimbursement and reduced administrative costs.
Ultimately, the cost of a medical billing service can be offset by an increase in revenue for your practice. It is important to thoroughly research and compare potential services to ensure you are getting the best value for your money.
What Are the Best Medical Billing Companies?
When it comes to medical billing companies, there is no one-size-fits-all answer. The best company for a small private practitioner may not be the best for a large hospital. There are some factors to consider when evaluating potential medical billing companies, though.
One important aspect is the range and relevance of their industry experience. It's also important to look at the company's track record, including any complaints or red flags.
Additionally, consider how they engage with patients and providers. Take a look at their level of transparency and communication throughout the billing process. Read reviews of what others have said about them.
It's important to choose a medical billing company that meets your specific needs. They should also provide quality service that aligns with your values and priorities. Here are a few options in today's medical billing industry that provide high-quality services and customer care.
DrChrono Medical Billing
DrChrono Medical Billing is a great option for brand-new or smaller practices. This is because they offer a platform that is easy to navigate. It doesn't feature a lot of complicated features and systems. These systems can feel overwhelming if you're new and don't need them.
This practice management solution for healthcare providers streamlines billing processes. They do so by offering electronic claims submission, patient statements, and customizable templates.
DrChrono also offers extra features. These include scheduling, telehealth integrations, and EHR integration. With DrChrono Medical Billing, you can manage your patient data and financial operations.
Do note that with DrChrono, you have to use both the practice management system and the EMR system. This is only the real major drawback as it might be unnecessary for you to use both of them.
All in all, DrChrono Medical Billing aims to simplify the billing process for healthcare providers. The benefit to you? It allows you to focus on providing quality care to your patients.
If you own a new healthcare practice then it's worth checking out this billing software. You get access to a platform that helps you manage your entire revenue system from beginning to end.
Pricing for ChronoMD requires a quote.
CureMD
Does your practice struggle the most with tracking KPIs? If so, you'll find that CureMD medical billing is one of the best options. The software also provides you with end-to-end RCM and practice management software. If you're scaling your practice then these can help you run your business.
In terms of basic features, CureMD also allows you to enjoy
Electronic submission of claims
Secure storage of patient information
The ability to track denied claims
They also offer customizable templates for patient statements and appointment reminders. Added analytical tools to track revenue and financial performance are standard as well. As mentioned, it's the analytics and reporting features that make this medical billing service stand out.
The ability to look at custom data is great. You can see the metrics that matter the most to your practice. This makes it easy to track the right KPIs and optimize everything from the inside out.
CureMD provides an efficient and secure solution for managing medical billing. Their pricing is some of the best on this list in terms of what you get comparatively, too.
Pricing for Cure MD starts at 5% but requires a quote for a more accurate price.
AdvancedMD Medical Billing
AdvancedMD Medical Billing is a fantastic medical billing company. However, the platform is better for larger practices. They have a 96% first-pass acceptance rate. They also offer hundreds of customizable reports and top-tier customer support.
The high-tech platform allows for easy communication. In addition, you can enjoy secure data transfer between your practice and insurance companies. AdvancedMD can also assist with setting up appropriate coding for billing purposes and managing claims. This all helps ensure the process runs smoothly.
Their team of experienced professionals works to get their clients the maximum reimbursement allowed by their insurance plan. This goes a long way if you're a larger practice managing a lot of claims.
Pricing for AdvancedMD Medical Billing is between 3% to 8% but requires a quote for a more accurate price.
CareCloud Medical Billing
Looking for a flexible, professional billing service? CareCloud Medical Billing ranks high in terms of flexible solutions. Like the other medical billing platforms on this list, they offer tools and features that help you manage part or all of your revenue cycle.
The biggest benefit of CareCloud compared to others on this list is that they don't currently require you to use the platform's PMS if you don't need or want to. This is what makes the solution more flexible than others on this list.
The biggest drawback about using CareCloud is that they require you to sign a three-year contract. Most other options on this list only require you to sign a one-year contract. If you're not sure about the platform then a three-year contract is a long obligation.
Likewise, the setup costs for CareCloud are slightly higher than others. If you enjoy the service, the costs, in the long run, are lower. So, it can even out.
Pricing for CareCloud Medical Billing is between 3% to 7% but requires a quote for a more accurate price.
Kareo Medical Billing
Kareo Medical Billing has become popular among health practices for its ease of use and the fact that they work with third-party billers. Their contract is also flexible in that you can cancel it as long as you give a 30-day prior notice.
Kareo offers a variety of features including:
Patient invoicing
Insurance claim submission
Payment management
Practice analytical tools
Kareo also provides personalized support from certified billers. They are available to answer questions and assist with any billing issues.
Many healthcare providers choose Kareo for its reliable and efficient services. This is what makes it a leading choice in the medical billing industry. With Kareo's platform, you can manage your practice's financial tasks while also optimizing your entire revenue cycle.
Pricing for Kareo Medical Billing requires a quote for a more accurate price.
Revele Medical Billing
Revele Medical Billing is a healthcare billing service that helps both independent physicians and large medical practices. Their software makes it easier to navigate the complex world of insurance claims and paperwork.
In addition to traditional billing services, Revele also offers accounts receivable management and patient billing services. This is on top of their regular medical billing services.
As an added benefit, Revele offers other solutions and services. These include patient engagement, EHR update training, and remote staffing services. While these might not be necessary for smaller practices, they're great for practices that are quickly growing and scaling.
Pricing for Revele Medical Billing requires a quote for a more accurate price.
Athenahealth Medical Billing
Finally, we have Athenahealth Medical Billing. This platform consistently ranks at the top of most medical billing company lists.
Athenahealth is a cloud-based system. Their software allows you to:
Submit claims
Check on payments
Manage patient information all in one place
Their cutting-edge technology also helps to decrease the chances of human error. This increases the likelihood of receiving prompt payment. In addition, Athenahealth offers assistance with compliance and regulatory changes. This ensures that you're always up to date with the latest rules and regulations.
All in all, Athenahealth Medical Billing is a valuable tool. If you're interested in simplifying billing processes and maximizing revenue for healthcare providers then check it out.
The only major drawback is that they don't offer 100% end-to-end RCM. For example, in some cases, they don't offer medical coding. They also don't offer management of denied or rejected claims. Consider this if that's a feature that's important to your practice.
Pricing for CareCloud Medical Billing is between 7% to 8% but requires a quote for a more accurate price.
How Do Medical Billing Companies Calculate Their Costs?
When it comes to calculating their fees, medical billing companies take a variety of factors into account. First, they consider the complexity and volume of the claims that they will process on behalf of the healthcare provider.
More or more complex claims will require more time and resources, leading to higher fees for the client. In addition, the company may also factor in its overhead costs, such as staffing and technology expenses.
And finally, the billing company may charge a percentage fee. This fee is based on the payments collected from insurance companies. It can also factor in the payments from patients for their services. There are a lot of moving parts. This is why medical have to carefully consider each case.
In the end, each medical billing company will have a pricing structure based on these factors. They will also charge based on their capabilities and resources.
They all aim to provide efficient and accurate billing services to ensure proper reimbursement for the healthcare provider. The difference between the costs of these types of services for your practice depends on what features you need and how many claims you have.
What Services Do Medical Billing Companies Provide?
Medical billing companies offer a range of services to healthcare providers, including the following:
Processing and submitting insurance claims
Following up on claims
Handling patient billing and payments
Providing financial reporting
The goal of these services is to help streamline the administrative tasks of running a medical practice and ensure that healthcare providers receive proper reimbursement for their services.
In addition, medical billing companies often have specialized knowledge and experience in navigating the complexities of insurance and healthcare regulations.
By outsourcing these duties to a reputable medical billing company, healthcare providers can focus on delivering quality patient care.
How Does Medical Billing Outsourcing Work?
Many healthcare providers choose to outsource their medical billing processes to specialized companies. This can be a cost-effective and efficient solution, as it allows providers to focus on patient care while experienced professionals handle billing tasks. 
If you're in the same boat and you're thinking that this sounds like a great way to streamline your practice's billing process then how does medical billing outsourcing work?
You'll get in touch with a professional billing company (you can check out a few from the list above). Take a look at their plans and service offerings and then request a quote from us so that you're sure they are the right medical billing provider for you.
As soon as you've decided on a medical billing company, they'll get all of the necessary information from you, including patient demographic and insurance data. They then submit claims to insurance companies and follow up on any denied or unpaid claims.
Once they receive payment, the outsourcing company forwards it to you. They'll take a percentage as their fee. As mentioned above, you should know this free upfront.
The Pros & Cons of In-House Medical Billing vs. Outsourcing Medical Billing
If you're not sure whether or not it makes sense to have an in-house team manage medical billing for your practice then let's take a look at some of the pros and cons.
In-house medical billing can provide more control and customization, but it also requires dedicated staff and equipment. Outsourcing medical billing, on the other hand, often saves money in the long run as there is no need for additional employees or equipment.
Outsourcing may also mean giving up some level of control and potential delays in processing payments. In the end, there is no one-size-fits-all solution for medical billing. It's important to weigh the pros and cons of both options before making a decision.
While one option may be more cost-effective for one facility, another may benefit from the specialization and flexibility that comes with using an outside company for their medical billing needs.
Whichever option is chosen should lead to efficient and accurate reimbursement for services rendered to patients. That's the end goal.
What to Look For When Choosing a Medical Billing Service
We briefly touched on this above, but it's worth going into a little more detail. After all, if you're going to be outsourcing medical billing and paying a lot of money for this service then you want to be sure you find the right one for your practice.
First, make sure they have experience and expertise in the specific field of medicine your practice specializes in.
Most larger companies should have experience with practices in your field. It's a good idea to ask them about this or look for reviews online of how other similar practices felt the billing company handled their claims.
It's also crucial to ask about their turnaround time for claims submission and payment collection. This is a big factor for you as you work to optimize your revenue cycle. After all, the goal of outsourcing this work is to optimize workflows and increase efficiency.
And don't forget to find out about their security measures for protecting sensitive patient information. Any good medical billing company should use various methods to protect patent data.
This includes things such as encrypting data, implementing strict password policies, and conducting regular security audits. They should also be able to easily comply with federal privacy laws like HIPAA.
Finally, consider asking for references or talking to other healthcare providers who have already used their services. There should be plenty of reviews online for any reputable medical billing company you're looking at using, but it's always nice to hear from colleagues who've used them.
Additionally, it's helpful to inquire about things such as their billing policies and processes, communication protocols, and customer support availability. Choosing a reputable medical billing service can save time and stress for both healthcare providers and patients.
How to Get a Medical Billing Service Quote
If you're ready to start looking at quotes for billing options and medical billing companies then you're wondering how you even go about getting a quote from these types of companies.
Traditionally, the first step is to research different companies and find one that fits your needs, budget, and values. Once you have selected a company, contact them by phone or email to request a quote.
The representative will likely ask you about the size of your practice or medical facility. They will also ask you what types of insurance you work with. Then, they'll ask about the specific billing services you need. Be ready to provide this information for the company to give an accurate quote.
Remember to get quotes from companies before deciding to ensure you are getting the best value for your money.
However, that's not how things work nowadays. Instead of contacting each company individually, you can use an online quote calculator to streamline the process. You'll answer simple questions about your practice and then receive personalized quotes that fit your needs.
Get Your Medical Billing Quote
At Kwote Advisor, we've made it easy for you to get a medical billing service quote from top-ranked medical billing companies in one place. Instead of searching through individual quotes online, use our online quote calculator.
After you receive your quote, you can easily get in touch with the medical billing company to start the setup process. It's as simple as that.
Click here to fill out our questionnaire and get a quote for medical billing services instantly.