How Much Does It Cost to Lease an Office Copier?
Understand how much it costs to lease office copiers here. See what is best for your business needs and more with this essential guide.
High-end office copiers can last seven years or more, and specific models can print around 50,000 copies monthly. That's a lot of paper and money. And we believe that having the best copier for your business is a wise investment.
Guide to Commercial Copier Leasing
This guide provides you with all the essential information to assess whether you should lease or buy an office copier. We'll also discuss roughly how much it will cost to lease.
Learn about commercial copiers, industrial copiers, and the features of office copy machines, so whatever you choose, you will be making an informed decision based on your needs.
Kwote Advisor can help you find your next office copier and why you should pick us to help you connect with the best seller out there. Are you ready to find out? Then keep reading!
Leasing Versus Buying, Which Is Better?
Knowing what kind of office copier you need before deciding whether to lease or buy is essential. And before we start comparing numbers, there are many features you should consider before picking the best office copier for your needs.
To start, here are five questions you can ask yourself:
How many pages do you estimate you will need to print per day?
Do you need security options if you copy private and sensitive information?
Do you want remote access to your copier and need it to connect to Wi-Fi?
Do you need the pages sorted, stapled, or double-sided?
Are you looking for an all-in-one device that allows you to copy, email, print, or save documents?
Lots of questions to answer, but once you have jotted down your responses you'll be reading to move on to the next section. We'll provide you with more in-depth questions and our answers to shed some light on the topic.
Answers to Questions About Leasing a Copier
After you've put together a list of all your answers, you can begin debating on whether or not you should lease or buy. Here are common questions we've provided solutions to.
Q: Are you on a limited budget?
If so, leasing may be your best bet. You can get a copier without committing to an expensive purchase.
Q: How long do you intend to have a copier?
Short-term options are usually better with leases.
Q: Do you prefer a low payment plan or a lump sum purchase?
Leasing can be significant if you are looking for a low monthly payment plan and the ability to upgrade your copier in the future.
Q: How frequently will you replace or upgrade your office copier?
Suppose you know you will need to upgrade within a few years of buying a new one. In that case, leasing may be your best bet since it allows for more flexibility regarding what kind of machine you will get at the end of the lease period.
If you have a budget and want to upgrade your office copier eventually, then leasing a copier is better than buying. You will save money and have the option to get a different copier if your business needs change. Now, what about the numbers?
Will You Get a Good Deal When You Lease?
A good deal varies per buyer depending on how much they expect to spend. The biggest distinction between leasing and buying is that leasing allows you to avoid paying the total cost upfront. Instead, you pay for your copier every month over a set of times.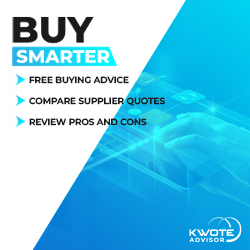 What Should I Look For When Buying an Office Copier?
There are multiple features to consider, so you know what to look for if you decide to buy an office copier. Let's go over the most important ones first.
Printing in Color or Black-And-White
First off, inkjet copiers are out of the question for large-scale business operations because they are not cost-effective in an office environment. The ink is expensive and can be hard to replace if it runs out. Laser copier machines are much more cost-effective because they have lower running costs and last longer than inkjet machines.
Laser color printers are excellent at printing in color. But, they can't print as many pages per cartridge as mono (black-and-white) laser printers. However, black-and-white laser printers won't be able to print in color, so it depends on what job you need to get done.
If you are unsure whether your printing needs are suited for color or mono office copy machines, ask yourself: What kind of jobs will I send through this machine? If most require color printing, consider using a laser color copier over a mono one.
Printing Speed Matters
As one of the most crucial factors, print speed should be a key aspect you analyze. It is the number of pages a copier can print per minute.
Eighty prints per minute or more is ideal if the office has regular printing requirements. If not, about 50 pages per minute will work just fine.
How Many Prints Will You Need Every Month?
It's ideal to estimate the number of pages you plan to print per month before you choose a suitable copier machine for your business. If you are working with a small office, you will likely be fine with a monthly print volume between 100,000 and 250,000 pages. But if you work in an office that produces more than 500,000 pages per month, you may need to invest in a high-volume copier machine.
Scanning Copies for Digital Backups
Scanning is a feature that allows you to scan documents and store them in a digital format on your copier. The ability to store documents in a digital format ensures multiple backups. Many offices require this feature for their copier machines.
Emailing Documents
Scanning also ties in with emailing documents from your office copier. You can scan documents to the copier and send them to an email address. This is a great way to ensure that you have a backup copy of your most important documents.
Keeping Your Files Safe: Security for Your Copier
To protect your data from unauthorized access to your office copier, you should consider encrypting and overwriting it. And most manufacturers offer data security features with their digital copiers as standard equipment or option add-ons. Let's review these ways your data can be secure on your copier.
Encrypting Data
The data is stored on your copier's hard drive and encoded. This means the data cannot be retrieved even if the machine removes the hard drive.
Encryption is a way to make sure that the right software can only read the data stored on your hard drive. This is vital to have if there is sensitive data, like financial records or client information.
Overwriting Data
This process overwrites the existing data on a hard drive with new, random data. Doing this helps to ensure that the original data cannot be recovered even if the hard drive is removed from the machine and connected to another computer.
In addition to the security features already in place, you can add another layer of security by locking the hard drives using a passcode. This means that even if the drive is removed from the machine, it will remain locked and inaccessible to anyone who could attempt to access it.
Duplexing: The Benefits of Printing Double-Sided Copies
The term "double-sided copy" refers to a copier that can print on both sides of a page, also called duplexing. This can save time and make the process more efficient than regular copiers since you won't have to flip printed pages over and run them through the machines again.
Memory Storage
A copier's memory (RAM) and a hard disk drive (HDD) can be handy in several situations. It's essential to know what RAM and HHD are in a copier. Consider a machine copier's RAM and hard disk before picking which copier you'd like for your office.
A copier's memory allows it to store commands from computers while it performs each request at a time. If the copier has more RAM, it's able to store more commands at the same time.
But, RAM only stores data for a limited amount of time. Once a request has been executed, the copier will permanently erase it from the memory. This is why you will need a hard disk.
As long as you have a hard disk, it won't matter if your print job is finished. Your command won't be forgotten or lost. You will be able to recall digital copies of what you were working on from the copier's hard disk and make the same request. This is a handy feature in an office with multiple employees requesting prints to the same copier.
Other Features to Consider
Commercial copiers have additional features that take one less step out of your daily document routine. The following features are available on specific office copiers:
Hole punching
Stapling pages together
Changing document sizes
Collate (organizing) multiple pages in projects
Folding pages
Cutting or trimming
Laminating
Sorting documents before printing
As you can see there are a bunch of amazing features that your future copier can have. But moving ahead, let's talk about some important factors concerning leasing.
Important Things to Know About Leasing Copiers
When you lease a copier, the cost of the copier is usually bundled with a service agreement that covers all maintenance, labor, and supplies. To break it down further, your lease payment would include the cost plus interest divided by the term of the lease, which could range anywhere from 36 to 60 months.
Do I Have to Pay for Maintenance on a Leased Copier?
When you lease a copier, a maintenance agreement is often attached to your lease payment but could be charged separately. Maintenance coverage usually includes parts, labor, and supplies like toner.
The cost per copy or print usually determines the maintenance fee. Sometimes dealers include a fixed number of copies in your total contract price.
It's best to have a maintenance contract where you only pay for the copies used. You can also select overage charges where the cost per copy fee is included in the contract.
What Are the Advantages and Disadvantages of Leasing Copiers?
There are a lot of advantages and disadvantages of leasing copiers to assess. So we've compiled the main points to consider.
Advantages
You'll find that some advantages include cost, term of the lease, and more. Be sure to evaluate these points thoroughly before you make a decision.
Low Upfront Cost
Upgrade Available at the End of Lease Term
Maintenance Included
Tax Deductible Since There is No Depreciation for Leased Copiers
Disadvantages
Below you'll see there aren't that many disadvantages. Although we'd consider the fact that you can't sell a copier, your leasing is the least obvious one.
Required Lease Length
Potentially Strict Terms in Contract
You Can't Sell the Copier
Over Time Overall Costs Could Be Higher
Is Leasing a Copier Printer Worth It?
If your needs are aligned with what we have covered about leasing a copier, then yes. You will save yourself money and time now while gaining the flexibility of options and assistance that comes with leasing. And you can easily downgrade or upgrade your copier based on your needs as they change.
How to Lease an Office Copier
You must apply for credit approval through a third-party financial company to get a lease. If you cannot be approved, there may be additional financing options to explore.
Your office equipment provider will be able to help you through this process. The monthly cost of leasing an office copier depends entirely on the copier, credit approval, the term of the lease, and the rates.
When You Should Lease an Industrial Copier
Suppose your business needs tens of thousands of high-quality copiers a month on multiple kinds of paper. In that case, you should lease an industrial copier. This type of copier is built to handle constant use without compromising quality.
Still, they cost more than commercial copiers used in most businesses. Since the price of leasing an office copier can cover a wide range depending on your needs and size of business, let's go over the cost of a couple of basic types of copiers.
How Much Does It Cost to Lease Black-And-White Copy Machines?
Black-and-white copy machines are generally cheaper to lease because they do not require as much specialized technology to create copies and prints with color. A lease option for a black-and-white copier can cost anywhere between a couple of hundred dollars to nearly a thousand per month.
The make and model affect the price, the estimated number of copiers and prints it can produce monthly, and additional features. Here are three black-and-white copy machines we recommend.
Lexmark MX810de Review and Ink Cost
If you want to lease a black-and-white copier, look at the Lexmark MX810de. This is a laser mono copier with duplex printing, scanning, and copying capabilities.
Print speed for this Lexmark is 55 pages per minute. It has 1 GB of RAM and can use A3 size paper. Ink costs are $119 per 25,000, but the monthly max amount of pages it can process is 300,000.
Brother DCP-L2550DW Review and Ink Cost
Next on our list is the Brother DCP-L2550DW. It has 2 GB of RAM and a hard disk with 320 GB.
Printing speeds are around 35 pages per minute, and the ink cost is close to $80 per 24,600 pages. And it can hold 1200 sheets.
Xerox D125 Mono Laser MFP Review and Ink Cost
This copier can print up to 125 pages per minute and fit paper sizes up to 13 inches by 19 inches. The Xerox D125 Mono Laser MFP looks like a monster, but it gets the job done.
It has duplex printing and scanning. And can be connected through LAN and USB cables. It holds up to 8,050 sheets and 700,000 pages per month is the recommended average monthly volume.
How Much Do Color Commercial Copiers Cost to Lease?
Like the black-and-white copiers, pricing depends on what the copier can do. It costs more to lease a commercial copier with color because the technology is more expensive than the standard black-and-white machines.
For a commercial color copier, a lease option can sometimes cost almost a thousand dollars a month. Below, we have selected commercial copiers that we love with color printing capabilities.
HP Color LaserJet Enterprise MFP M880z Cost
A color commercial copier to consider is the HP Color LaserJet Enterprise MFP M880z. It has RAM of 2.5 GB with a hard disk that holds 500 GB.
It can print in color and mono with a speed of 45 pages per minute. The ink costs are around $100 per 30,000 pages.
And the max amount of pages it can produce is 200,000. A rough cost estimate for the copier is $9,000.
HP LaserJet Enterprise MFP M630Z Cost
The HP LaserJet Enterprise MFP M630Z has duplex printing and scanning capabilities. It can copy pages with print on both sides in ADF. And its Ram is 1.5 GB with a hard disk of 320 GB, but it can print 60 pages per minute.
Ink costs $311 per 25,000 pages and can hold 1,000 sheets simultaneously. It's priced at around $5,000 and can handle 250,000 pages monthly.
Toshiba e-STUDIO 7506ACG Cost
With 4 GB of RAM and an impressive 320 GB of storage on the hard disk, the Toshiba e-STUDIO 7506ACG is fantastic. The max monthly average paper volume is 600,000 pages, and it can print up to 85 pages per minute.
It can connect wirelessly or with Bluetooth as well as LAN and USB. Able to use sheet sizes up to 13 inches by 19 inches, it does duplex printing, scanning, and copying duplex pages in ADF. The copier cost $35,000+
Kwote Advisor Can Help You Browse Copier Providers
The mission of Kwote Advisor is to make buying easy for homeowners and business owners. We connect you with trusted brands across the United States so you can get quotes from three to five vetted companies near you.
We started Kwote Advisor in 2022, and it was built to be a one-stop solution to serve as a quote engine for B2B and B2C buying needs. But we have been in business longer than that.
Kwote Advisor Is a Trusted Comparison Shopping Business
We began the comparison shopping business in 1991, starting in niche markets that covered industries like payroll, coffee service, and some solutions for home improvement. Thanks to us, our buyers appreciate hundreds of free online guides to help them buy for business and home improvement needs and solutions. And we even have a great guide on how to offer benefits to employees of small businesses.
Because of our method, our buyers feel confident that they can use our free tool to evaluate up to five free quotes and contact trusted companies. We want you to learn everything you need to know about what you are looking for before we connect you with our trusted suppliers. And we have a full range of services available to browse.
We Care About Our Buyers
We value you and that's why we've created this fantastic essential guide on how to pick out the right office copier and how much leasing office copiers cost. We also gave you details on standard features and our top picks for color and black-and-white copiers.
But we didn't stop there. We did this because we care and are committed to providing our buyers with the information required to make informed decisions about the products and services they want.
Find the Perfect Office Copiers With Kwote Advisor
Are you ready to find the right office copiers to lease but don't know where to start? We can help. At Kwote Advisor, we'll help you browse a range of office copy machines.
With us, you can compare copier quotes for free. All you have to do is answer three easy questions:
What kind of copier would you like?
How many prints and/or copies do you make monthly?
What is your zip/postal code?
After providing us with your email, we'll send you information about carefully selected copier vendors we highly recommend. Ready? Get your free quotes today!