How Much Do Commercial Copiers Cost?
What do commercial copiers cost, and what are the best copiers for business? See our guide as we go in-depth on selecting the right copier for your business.
Commercial Copier Buying Guide
DID YOU KNOW: The first commercial copier was created by Xerox in 1958. In 1981, their office-grade laser printer carried a price tag of about $17,000. That's equivalent to about $55,000 in today's money.
Commercial copiers have evolved a lot since those early days, and now are an essential piece of equipment for any business. However, copier leasing and printing costs can seem confusing and complicated.
As part of being a responsible business owner, you will have an allocated budget to invest in office equipment. There are so many industrial copiers on the market, but you want to find a good quality machine at a fair price.
A good quality machine is a big investment. A machine might have a great price upfront, but when it comes to the crux, maybe it's just not fit for your requirements.
Learn more with Kwote Advisor's in-depth guide on office copiers, including what to look for, the best machines on the market, and the cost.
Commercial Copiers vs. Consumer Copiers
Printers fall into two categories: commercial copiers and consumer copiers. A consumer printer is also referred to as a desktop or personal printer. A commercial printer also goes under the name of a business printer or an enterprise printer.
True, they both print. However, there are some major reasons why you should opt for a commercial printer for your business.
Although a consumer copier might be great for home use, or even a small side hustle. If you're a business owner, it just won't be up to the job and it could end up being a false investment.
What Factors Influence the Cost of Commercial Copiers
Various factors will influence the cost of your printer. With regards to commercial printers, a black and white copier costs anywhere from $800 for a very basic model up to several thousand. Entry-level color commercial copiers start from $1,000 and go well into the tens of thousands for a multi-functioning machine.
Although some copier features on the high-spec machines are nice to have, they might not always be necessary. You'll need to weigh up all the features you and your business need.
Printing Quantity
Typically, printers aimed at consumers have far less use than business printers. When you're researching which printer to buy, you'll need to take a realistic look at how much you will be intending to print.
Think about how much you print now, and if your company is seeing growth, how much are you likely going to need to print moving forwards. As your business grows, so will your print needs.
Internal Memory
How many people does your company employ, and how many of them will need access to a printer regularly? A major problem with consumer printers is their lack of internal memory.
If there are multiple users, there may be issues with storing print queues. Commercial printers have a lot more memory to alleviate that exact problem of having numerous print jobs being sent to them.
Printing Speed
Regardless if you're looking at consumer printers or commercial printers, they will both have a PPM rating. This means pages per minute and is based on how many pages you can expect your printer to produce in a minute.
Of course, this will depend on the item you're printing. A full-color photo will, of course, take longer than a black and white page of text. However, consumer printers are by far the better choice for large print jobs.
Versatility
Generally, consumer printers are either just printers or have additional built-in options like scan and send. Business printers have a higher range of functions.
When you're searching for consumer printers, you will see the term MFP being used. This means multifunction printers. Not only do they print, copy and send, but they many will also have functions like finishing documents, including folding, stapling, trimming, and binding.
Cost
If you're on a tight budget, it can be tempting to look at consumer printers. You can pick up a consumer printer for less than $100.
However, as appealing as this price is, it will not be up to the requirements of a busy office environment.
With cheap consumer printers, maintenance and after-purchase expenses can skyrocket, especially with things like the cost of replacement ink. They will also have a minimal lifespan if you're using them frequently.
Although a commercial printer is a bigger outlay at first, in the long run, it will save you money. For starters, the machines are much more robust and geared towards higher levels of print production. You will have the option to use a managed print program to reduce ongoing costs, such as toner and paper, making it a much better investment in the long run.
How Much Do Black and White Office Copiers Cost?
An entry-level professional standard copier machine will cost between $800 for an extremely basic model with minimal features and several thousand for a multifunction machine.
The entry-level copiers are a great option if you're a sole proprietor, just starting out, or only employ a small team. However, they can be slow, print less than 50 PPM, and lack other features like a staple, hole punch option, or even scan to email.
Average Cost of Black and White Copiers:
Xerox Monochrome $960
Toshiba eStudio $3,295
Sharp MX-8090N $64,900
Canon Miage Runner 6565i $11,221
Lexmark CX924 $10,211
Canon 6575 $6,223
Sharp MX-M1054 $26,300
Ricoh Afico MP C5503 $7,200
How Much Do Color Commercial Copiers Cost?
The cost of commercial copiers that print in color starts at around $800. As you will discover later in this guide, commercial copiers quickly climb upwards of $29,000, and even $50,000 depending on your office needs. These will be very basic models that lack features that your business may need. However, their cost makes it appealing if you're limited by budget.
Average Cost of Color Copiers:
Lexmark CX924dte $12,980
Canon ir2270 $8,899
Sharp MX 4110N $45,200
Konica Minolta C368 $5,030
Xerox WorkCentre 59551 $11,800
Lexmark X954 $21,500
For a top-of-the-range, multifunction color printing copier, you could spend well into the tens of thousands of dollars. If you have a mid to large company, or printing makes up a large part of what your business does, then it will be worth investing in an industrial standard multi-function copier.
Commercial grade copiers will be able to cope with large amounts of copy and print volume and will have a whole range of features at your disposal.
What Should I Look for When Buying an Office Copier?
When you're researching office copiers, you'll find that they come with an abundance of useful features. For some of the very top-spec models, there's not much they don't do.
Depending on the nature of your business, you may or may not need these copier functions. Before you buy your printer, make a list of the functions you would use now, but also what you might need as your company grows.
Here's the lowdown of some of the key features you will want to consider.
Enlarge or Reduce
This is a great feature if you need to scale up or down a document. You use the scan function on your copier to make something bigger, either by a percentage or scale up to fit a particular paper size.
This feature is great for things like scaling images to fit in a frame and also for sight-impaired people who may need a document in a large format.
Folding
If your business intends to print things like leaflets and booklets, then the option of folding will be something you may want to consider. This can be done by making sure you purchase a copier with a saddle stitch finisher. This will allow you to print documents that are folded and then have two staples along the fold.
Staple and Hole-Punch
Finishing options is an excellent time-saving function that is available on some printers. Documents can be stapled and hole-punched accurately and professionally all from a simple press of a button.
There are several options that you can choose from while you're programming your print job. These include where you want the staples to go, such as just one corner, or a certain number along the long edge.
You can also choose a hole punching option, similar to how you would set up the staple option. Choose the number of holes and which edge you want the holes to go along.
Not all machines have these functions, but if you plan to print documents that need to be finished in some way, then you'll certainly want to make sure your machine has this option.
Edge to Edge Print
If you're wanting to print professional-looking booklets, leaflets, or posters, or reproduce photographs, then a useful function will be edge-to-edge printing. For general word documents, this isn't a necessary feature, but if you're producing a lot of graphics-based work and want the print to go right to the edge of the page, without leaving a white border, you will need to make sure your printer allows for this.
Scan to Searchable PDF
A lot of higher-end copiers now come with an Optical Character Recognition, or OCR, function built in. This means you can scan a document, and the OCR system recognizes the words and converts it into a searchable .pdf file.
The .pdf file is saved on the internal memory of the copier and can be recalled when you search for certain words that are found within the document. This digital filing cabinet saves so much time and keeps your documents organized efficiently.
Print From USB or SD Card
For quick transferring of data, most photocopiers now come with USB or SD card ports, meaning you don't have to log on to your laptop to be able to print. This is especially useful if you need a printer that is used by customers or the general public, such as a photo printing service, or in a co-working space.
Duplex Printing
If you're printing a lot of documents, then you will want to consider the double-sided printing function. Some printers have an automatic feed that will scan all of your documents, and then an onscreen editor that will allow you to edit the layout such as the formatting including printing along the long edge, or short edge.
Duplex printing is one of the main ways of reducing printing costs, and it's better for the environment, as it halves the quantity of paper used.
Collation
This function is really useful if your business involved lots of handouts with multiple pages. It can be tedious to batch up and manually separate a bundle of documents. The 'collate' function slightly shifts each batch of papers into a separate pile, making it easier to see where each bundle of documents starts.
Scan to Email
Office copiers come with an integrated scanner. This means you can easily scan and send documents from the photocopier straight to your email, or to a client. Machines will also let you save your email as a shortcut key within the copier's internal database, meaning you won't have to input your details each time.
Security
Because most modern printers will store data somewhere, its security of it will also need to be a consideration, especially if you're printing confidential items, such as for an accountancy firm or a law firm.
Printers, just like a laptop, can be the victim of cyber attacks if you're not careful. Here are some precautions you should take to reduce the risk of being hacked:
Configuring your network settings to only allow your printer to work through an authorized network router
Secure your printer ports and disable any which are not being used
Set up a secure and reliable firewall
Make sure your printer's firmware is updated to the latest version
Give each user their own designated password and change these frequently
What Are the Fastest Copy Machines for Business?
If you have a high volume of printing that needs doing quickly, then the speed of copying will be a priority feature when choosing a printer. Here's a list of the fastest printers right now ranked by PPM (pages per minute):
Ricoh DD 3334 at 130 PPM
Ricoh MP 9003 at 90 PPM
Konica Minolta 654e at 80 PPM
Xerox Docucolor 260 at 75 PPM
Kyocera Skalfa 7551ci at 70 PPM
Lexmark MX910 at 65 PPM
Sharp MX 6500N at 65 PPM
Ricoh MP 6503 at 65 PPM
Ricoh MP C6502 at 65 PPM
Xerox COLORQUBE 9303 at 65 PPM
What Are the Most Secure Office Copiers for Protecting Information?
Long gone are the day when a copier was just a stand-alone machine connected to a single computer. Office copers are multi-faceted machines that can tackle a whole array of jobs.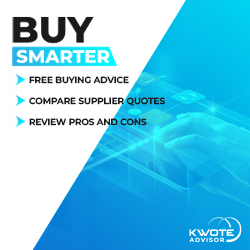 However, with the advancement in office copiers come the issues of security. The hard drive in the digital copier stores a plethora of data, which includes personal information, contracts, and sensitive material.
If you're not taking the relevant precautions to protect that data, it can easily be stolen from the machine. It can be extracted by remote access or at the end of your lease by removing the hard drive.
What you will be using your office coper for will determine the level of security. Currently, HP is the leading manufacturer of secure printers and has the best security features from the first time you start it up. Here's why:
On all of their printers, they use Sure Start, which is a firmware that protects the BIOS threat detection system and helps prevent malware from getting onto your printer
The use of HP Whitelisting ensures that only current and legitimate firmware gets loaded onto your printer.
If vulnerabilities are found, the HP Whitelisting feature automatically halts actions, restarts your machine, and sets it to the preboot settings to help prevent attacks
You may also want to limit who has access to the copier. This is available through card scanners and biometric readers.
This will help to track who has accessed the machine and what they used the machine for. It's also handy to keep track of budget by making sure team members aren't exceeding their print allocation.
It's also worth taking note of what to do with your printer at the end of its lifecycle. It's a good idea to remove or erase the hard drive.
How Much Will Copier Toner Cost Me?
Print copier toner can be expensive. Each printer works with a specific cartridge series. These are often at a designated price point.
You'll also find the official toner packs alongside cheap knock-offs. Therefore, prices can range from $100+ for a genuine branded copier toner, to prices in the region of $20 for a copycat version.
To help understand the cost of printing and the value you're getting out of your toner, it's useful to understand the printer's cost per page. The cost per page (CPP) is worked out by dividing the cost of your toner by your page yield, which is the approximate number of pages you can print from one toner pack.
If you're conscious of the running costs of a commercial copier, take note of the page yield, and do some research into the toner available to work out how much it will cost to run.
Another way to reduce costs is to use a refillable tank for the toner instead of individual toner cartridges. Typical toner refills have a yield of well over 5000 pages.
If you're looking for some easy ways to make your toner last longer and save you money, here are some great tips:
Printing in Draft or Economy Mode uses as little as half the ink compared to regular printing, and it prints quicker
Changing your font from Ariel to Times New Roman can save around 27% in ink usage
Don't let your toner dry out by using them regularly and keeping your printer room at a cool temperature
Use toner subscription services rather than purchasing from a high street store
Leasing Industrial Copiers Versus Buying, Which Is Better?
After looking into which industrial copiers are the most suitable for your business, you will then come to the option of purchasing or leasing. Which is the best option, and what are the pros and cons of buying or leasing?
Purchasing an Industrial Copier
The obvious advantage is that it will most likely work out cheaper in the long run, and it can be added to your company's assets. Here are the pros and cons:
Pros
There's no recurring paperwork or monthly charges, just the initial receipt and warranty you get when you purchase the machine
The entire price is a tax-deductible expense in its first year
You have entire control over what you do with the machine and don't need to stick to the rules of a leasing agent
Cons
The initial expense of buying a new copier can be huge, in particular for small-sized businesses (especially if you're going for a highly-specialized copier)
You'll be responsible for organizing any maintenance and the costs associated with repairs
Like all technology, it will become outdated after a few years, which could make it difficult to sell second-hand
A lack of standardization if you have multiple premises or offices and each office is responsible for purchasing their own equipment
Leasing an Industrial Copier
If you're not ready to commit to one particular copier model or don't have the funds to invest in a printer outright, then leasing might be the better option for your business. Here are the pros and cons:
Pros
Upfront costs are lower with various lease packages available
Lease payments are at a fixed price, meaning you'll know exactly what your expenditure will be each month
A structured payment system is in place and can be arranged to work with your business's cash flow, so you are the one who determines the length of the lease
By not having your business's funds tied up in purchasing an expensive machine, you can invest the money elsewhere into growing your business
Leasing costs can be offset against taxable profits
If your requirements change, it's easy to upgrade or downgrade the copier to meet your company's needs
If there are problems or maintenance needs doing, then it's the lease agent's job to arrange this and sort them out
Cons
Overall, it can be more expensive to lease, because even though the monthly payments are relatively small compared to purchasing, they will add up over time
You may be bound by a contract and be stuck with a printer that doesn't meet your business needs
If you or your company have a poor credit rating, it could be difficult to arrange a lease
You also must be careful of hidden agreement clauses, especially regarding insurance or yearly administration fees, so make sure to check the best overall package.
You might be tied into terms and conditions relating to limited usage, or hidden costs such as insurance and admin fees
The Best Commerical Copiers Right Now
Here are our top picks of the best commercial copiers right now. We've listed a range of multi-function machines and divided them into two categories: one that prints less than 64ppm and one that prints at over 65ppm.
Best Copiers That Print 40-64 Pages per Minute
Here are our first printer choices. We based our decision on which machines have the most features and online accessibility, and listed some of the most important things you will want to consider before purchasing or leasing.
Altalink B8100 Copier
Black and white multifunction printer
The printer supports Tabloid sized printing, which is slightly bigger than the normal A4 sheet size
Intuitive touch screen user interface that you can personalize and program for repetitive tasks
Has copy, email, print, and scan functions
Prints up to 45 ppm, with a monthly capacity of around 200,000 copies
Inbuilt security featuring ConnectKey® Technology
Sharp MX-5070N A3 Tabloid-size Copier
Printing up to 50 ppm
Features a 1.9 GHz multi-processor, 5 GB memory, 500 GB hard drive
Can scan up to 200 images per minute
The inbuilt walk-up motion sensor can sense you from just a few feet away, so it's ready to start when you are
Retractable keyboard for entering details like email addresses
Inner 50-sheet stapling finisher
HP Enterprise Flow M880z MFP A2W75A With Finisher
Printing up to 45 ppm
4×500 sheet input tray and two-sided single-pass scanning
Intuitive LCD touch screen plus a large pull-out keyboard
HP's Flow CM gives easy file-sharing options
HP's exceptional security
Canon ImageRunner Advance C5560i III Copier
Printing up to 60 ppm
4 GB memory and 250 GB hard drive with a Canon Dual Custom Processor
Features Security Information Event Management (SEIM)
Memory and RAM can be upgraded from 4 GB of memory and 250 GB of hard drive to a massive 1 TB
Large 10.1″ flat screen control panel
Finishing options include stapling and hole punching
Xerox VersaLink C7030/TXFM2 Color Multifunction Copier
Print up to 30 ppm
Automatic duplexing
Color touch screen display
The monthly duty cycle of up to 129,000 pages
Compatible with a wide range of operating systems including Linux, MS Windows 7, MS Windows 2000 Server, MS Windows 2008 Server, HP-UX 11i v3, and Apple Mac OS X 10.10
Inbuilt stapler finisher
Best Copiers That Print 65+ Pages per Minute
Here are our choices if speed is a requirement. We've listed our favorite models of these multi-function machines and highlighted the key selling points of each.
Toshiba e-STUDIO 8515A
Printing speed starts at 55 ppm, although it does go up to 86 ppm
It has 4 GB memory plus 320 GB hard drive and a 1.33 GHz processor
Connects via e-BRIDGE NEXT controller, ethernet as well as wi-fi connectivity
Features an inner stapler
Comes with a touch-screen interface
Can take a heavy-duty cycle of up to 720,000 pages per month
Xerox AltaLink C8070/HXF2 Color Copier
Print up to 70 ppm with a monthly duty cycle of 300,000 pages
Internal 1.91 GHz processor, 8 GB memory, and 250 GB hard drive
Ideal for high-volume workflows
High-capacity tandem module tray totaling up to 2,000 sheets with single-pass and duplexing document feeder
10.1″ touch screen
Connectability to a variety of apps, including AppleAir print, Google Cloud Print, Mopria, Microsoft 365, OneDrive, Google Drive, and DropBox
High security, partnering with McAfee with features like user authentication, network authentication, IP address filtering, and access controls
Sharp MX-M1205 Copier
Ultra-fast 120 ppm
Features FS200 Monochrome Print Server with Command WorkStation for environments that need precision job management
Intuitive, large 15.4″ display touch-screen comes with the fully integrated Command WorkStation software package
Monochrome only but with razor-sharp image quality
How Much Do Copiers Cost That Print Between 20 and 50 Pages per Minute?
From our selection above, the Xerox VersaLink C7030/TXFM2 Color Multifunction Copier, which prints at 30 ppm, costs on average $15,193, and the HP Enterprise Flow M880z MFP A2W75A With Finisher come in at a more affordable $8,999.
However, if you're interested in the Altalink B8100 Copier, this is a much pricier option and will set you back at around $46,880.
In general, the national average cost for an office copier printing between 20 to 50 pages will cost you $16,214.
How Much Do Copiers Cost Upfront Between 50 and 100 Pages per Minute?
Again, like with the slower page per minute printers, prices vary a lot. The Sharp MX-M1205 Copier is priced at an average of $63,000, whereas the Xerox AltaLink C8070/HXF2 Color Copier comes in at a more affordable $31,000. The Toshiba e-STUDIO 8515A sits comfortably in the middle at around $46,880.
If you're wincing at the prices, then these models are usually available to lease.
Which Commercial Copier Is Right for You?
We've covered a lot of information about commercial copiers in this article. There's a lot to think about, including your business needs, requirements, and budget available.
If you're still unsure which opinion is best for you, Kwote Advisor has all the answers for you on whether you should purchase a copier and can provide more information on leasing office copiers.
Contact one of our knowledgeable team today to discuss all your questions on industrial copiers, including in-depth price and brand comparisons to help you make an informed decision.