Important Features to Look For in Office Copiers
Are you planning to buy a copier for your office? From features to cost Kwote Advisor will help you to discover all you need to know about the most important features to look for in an office copier.
Even as companies increasingly go paperless, office printing remains a core business requirement. The average employee still prints around 27 pages a day. This is even higher in industries like education, law, finance, and government.
Are you looking for an office copier that can handle all your copy and print demands? Are you unsure what key features you need?
Our office copier buyer's guide has everything you need to navigate the selection process. Read on to learn how you can get the most from your office copiers without wasting money, time, or stress.
1. Basic Office Copier Features
High-tech features are nice, but your basic office copier needs come first. This depends on questions like:
How much do you expect to print?
How fast do you need to print?
What color and detail level is required?
What ink and toner will you use?
Do you need remote copier access?
Are you looking for an all-in-one device?
Once the basics are solid, you'll know what additional features you need. This will ensure you pick out the best office copier for your workplace.
Volume and Speed
Volume and speed are arguably the most critical features in your commercial copier selection success. Overestimating can waste money while underestimating can cause printing delays and maintenance issues.
Volume refers to how much printing you do on average, either daily and/or monthly. Speed refers to pages per minute (PPM) or copies per minute (CPM). Generally, the higher the volume, the higher the PPM/CPM you'll need.
Resolution
Resolution is another key feature. This determines the print quality of your copies and scans. A commercial copier with a low resolution can't handle high-quality graphics and prints.
Resolution features are referred to as DPI (dots per inch). Higher DPI numbers mean a higher print quality your commercial copier can produce. You may not need a high-end DPI, however, if you only expect to copy and print basic documents.
Color Printing
Like resolution, color printing quality depends on the documents you expect your commercial copier to process. Color printing generally has a lower PPM than black and white.
Some companies opt for black and white exclusively for faster basic document printing. Others have separate office copy machines for color print jobs.
Ink and Toner
Commercial copiers can come with two main printing types: inkjet and laser. Inkjets use ink cartridges, and laser copiers use toner.
Inkjet is better for high-quality graphics, while laser printers are better for high speed and volume. They also have different replacement costs and maintenance requirements.
Network Connectivity
Commercial copiers can include an internet connection, either through WiFi or Ethernet ports. This gives users the ability to connect with remote devices such as computers, cell phones, tablets, etc., to send print jobs to your office copier.
It's also more convenient if you need a print copy of a digital file stored on a server. Without an internet connection, you must make multiple transfers using a USB or similar.
2. Multifunction Printer/Copier (MFP) Features
Commercial copiers are a significant money investment, so companies offer office copy machines with multiple functions besides basic printing and copying:
Scanning
Faxing
E-mailing
Web browsing
If you already need more than one device, an MFP is a great solution. Using MFPs cuts down on economic and environmental waste. It also streamlines business processes.
Scanning
Scanners are used to transform paper documents into digital files. Adding it as a feature for MFPs allows you to copy and print documents for paper and/or digital conversion all in one go.
Faxing
Faxing isn't as ubiquitous as it once was, but many industries still use it. Real estate, healthcare, and legal offices habitually rely on faxing to send secure documents, for instance.
E-Mailing
Adding an e-mail feature allows you to send copies without any extra steps. If you need to send copies to clients, for example, you won't have to keep bouncing back and forth between the office copier and your workstation.
Web Browsing
If you've ever needed to copy and print something from the web, you know it can be a tricky process. Built-in web browsing streamlines the process and allows you to take direct advantage of browser printing functions.
3. Specialty Printing Features
There are additional features that can add the finishing polish right in your office copier. This also adds a more uniform, professional appearance than doing these processes manually.
Hole Punches
If you habitually copy documents to store in binders, a hole punch feature will make your workday much more manageable. It can punch multiple documents and/or punch them in the exact same place each time.
This eliminates those pesky margin gaps and uneven pages. It also makes sure your hole punches aren't too far on the edge or into the page.
Stapling
Automatic stapling is another productive office copier feature. This staples all your documents in one neat and even package. No more endlessly tapping papers on the desk in an attempt to line them all up.
Page Sizes
You may need to resize a document into a smaller or larger format. Basic copiers may skimp on this feature for speed and simplicity's sake.
If you frequently need to resize documents into standard sizes or vice versa, look for commercial copiers that have page resizing features. Otherwise, you're stuck resizing the document manually, which can take more time and effort.
Folding
Did you know there are many different print folding techniques? If you do, you probably want folding features for your office copier, including:
Half-folds
C-folds
Z-folds
Double parallel
Tri-folds
Rolls folds
Gate folds
Church folds
Folding paper can be difficult manually, especially if you want to fold every document evenly. This feature ensures you won't end up with wonky folds.
Lamination
Lamination in printing refers to adding a layer of thin plastic to paper documents. This layer offers increased protection from mishaps like rips, wrinkles, moisture, and stains.
Lamination used to be an entirely separate process, but now many commercial copiers have it as a built-in feature. If your workspace relies on lamination, you may reduce device management and process steps by adding it to your office copier.
Booklets
Booklets are another feature you may find useful for your office copier. It's good for producing:
Marketing promos
Programs
Pamphlets
Catalogs
Brochures
Mini-guides
Training manuals
Case studies
FAQs
You may already rely on booklet printing, or you may be aiming to take your office printing to the next level. Either way, a commercial copier with booklet features will cut down on your print outsourcing.
Non-Standard Paper
Commercial copiers can also come with the ability to print on paper that is thicker than usual, called cardstock. Heavy-weight paper is useful for prints like flyers, posters, and cards.
If you do photo printing, you'll also need an office copier compatible with photopaper. These papers have many different finishes, such as gloss, matte, and luster. They can easily smudge if not printed properly.
Non-Standard Printing
You may also find special features for non-standard printing. This includes:
Postcards
Banners
Stationary
Envelopes
Business cards
Labels
If you need want/these features, look for commercial copiers that can produce specialty printing without overly complicated steps. They should also have feeders and trays that can handle these jobs without jamming the paper or jittering the print.
4. Organizational Features
Along with printing features, there are many other features that help reduce workplace chaos at the office copy machine. This includes streamlining the process and adding ways to modify documents without having to start the process all over again.
Automatic Document Feeders
Old-school document copying/scanning requires you to lift a lid and painstakingly arrange your document on a scanner. If you have two-sided documents and multiple pages, this can add significant time and frustration to your copy process.
Automatic feeders allow you to insert documents as a stack. Your documents are printed faster and with uniform margins. It also cuts down on queues at the officer copier.
Automatic Sorting / Collating
Collating refers to keeping multi-page documents in a specific order. If you need to make five copies of a contract with four pages, for example, an office copier without this feature will make five copies of the first page, then the second page, and so on.
You then have to individually sort the pages and put four stacks of documents back together in order. With automatic sorting, the commercial copier does all this for you.
Dual Side Scanning
With two-sided documents, you traditionally had to scan one page, flip it, and then scan again. Office copiers eventually gained the ability to do this for you, but modern copiers take this process even further.
Many commercial copiers have the ability to scan both sides of the paper at once, cutting down on copy/scan times. If you're worried about office copier bottlenecks, a feature like this one will be a critical advantage.
Auto-Duplexing
Along with dual document scanning, auto-duplexing refers to printing both sides of a document at once. Copiers without this feature require you to print one side and then reinsert everything precisely into the feed for the next side.
Auto-duplexing reduces this extra time and potential errors. It has the added plus of massively reducing paper waste. For this alone, auto-duplexing is an essential feature of any office copier.
Selective Printing
Sometimes you don't need to copy and/or print every document. Having the ability to select certain pages and even page sections right on the office copier means you don't have to waste paper or start all over.
Image and Copy Editing
These high-end features could be invaluable for your workspace. Graphics-rich industries like marketing particularly benefit from image/copy editing features.
Copy editing allows you to add page numbers, dates, and even watermarks to documents and images. Watermarks provide extra security and copyright protection. If you deal with sensitive data and/or proprietary prints, look for commercial copiers with these features.
Automatic Resupply
Automatic supply management is another high-end commercial copier feature. These features detect when supplies like ink, toner, and paper are low and send you alerts before they run out. Some office copiers will even reorder supplies for you.
5. Digital Features
It's becoming more and more of a digital world, even in traditional print industries. Office copiers come with many digital features. They range from simple (PDF support) to transformative (workflow solutions).
Workspace Integration
Commercial copiers should be compatible with all your workspace devices. If you lease your office copier, many companies provide integration and training services for you.
Workflow Management
Workflow refers to all the steps in a business process needed to complete a goal. The core goals of digital workflows are to:
Automate processes
Reduce process steps
Eliminate bottlenecks
Reduce/eliminate paper usage
This makes office copiers a central component of workflow management. Many commercial copiers come with digital solutions for automation and cross-channel tracking, so your digital workflow stays efficient from start to finish.
Memory and Space
Like computers, the speed and efficiency of commercial copiers also rely on their available hard drive and memory space. If your printing output exceeds your office copier's memory, for example, you could get errors that interfere with printing.
Address Books
Like other digital devices, commercial copiers can store digital address books with:
Names
Phone numbers
Fax numbers
E-mail addresses
Misc contact info (titles, business relationship, etc.)
These digital address books can also include security access permissions. If you want to copy a document and send it off all in one step, instead of traveling back and forth between devices, this feature is for you.
Server Storage
If you use cloud-based data storage, many commercial copiers can integrate your storage solutions. The documents you copy and print can be sent to services like Google Drive, iCloud, Dropbox, or OneDrive, either automatically or with a push of the button.
Optical Character Recognition (OCR)
OCR refers to converting text images into text files. If the document remains an image, it cannot be edited, searched, or processed like text.
This data extraction feature is useful for commercial copiers that scan documents like legal contracts and receipts for accountability and tracking purposes. It's also critical for managing PDF files.
File Formats
Successfully scanning and copying documents into digital files means having the right file format support. There are many file formats you may need to convert scanned documents:
PDF
JPEG
PRN
TIFF
XPS
PCL
DOC/DOCX
XSL/XSLX
PNG
If your workspace frequently scans and copies spreadsheets, for example, being able to convert them into an XSLX file at the office copier will result in many happy employees.
Mobile Printing
Commercial copiers now have built-in functionality with many mobile services, including Apple AirPrint and Android's Print Service. This feature is useful if you have employees who travel, work remotely, or frequently use cell phones for work-related purposes.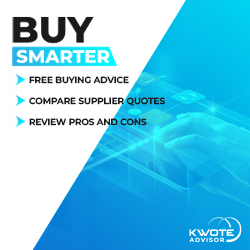 Integrated App Support
You may use other app platforms in your business, so adding integration with your office copier can enhance your workday rather than add extra steps. Some commercial copier companies even offer services for creating your own personalized apps.
6. Security Features
The majority of commercial copiers come with network functionality, including WiFi compatibility. This improves remote access for users and workstations but adds a potential weak link to your security.
Office copiers are surprisingly overlooked when companies consider digital security, despite all the data they process. If you choose an office copy machine with network connectivity, look for these essential security features.
Encrypted Server
Cybercriminals can intercept any unsecured network, including office copiers. CyberNews hijacked nearly 28,000 unsecured printers across the globe in 2020, making them print printer security guides.
Core office copier features include a secure network. This means firewalls, encryption, and user authentication.
Network Monitoring
Monitoring your network is another vital digital security feature. Office copiers with network connections should include features to detect suspicious activity.
Most network monitoring also has alert systems in case an active threat is detected. If you lease your commercial copier, your contractor may provide this service for you.
User Authentication
This security feature ensures not just anyone can hop on and off your office copier, physically or remotely. Authentication requires the proper login or pin information before accessing it.
This feature also helps companies set and manage their printing parameters, such as who can print, how much they can print, etc. They can additionally use authentication logs to track accountability for sensitive data.
Card Readers
Card readers are another optimal feature for user identification. If your company already uses employee cards or key fobs, you can add a reader to your office copy machine.
This lets employees swipe, tap, or swoosh their ID to access their office copier job. If you're looking for a commercial copier, users will pay for use, it can also include debit/credit card readers.
Secure Print Release (Pull Printing)
Pull printing refers to keeping a print job on the server until it's released by an authenticated user. This gives office copiers an extra layer of security, along with reducing chaos at the machine.
This feature is useful for:
Shared printers
High traffic networks
Sensitive data
Pay-per-page copying/printing (libraries, colleges, etc.)
Pull printing has the additional perk of cutting back on paper waste. With so many benefits, this is a key office copier feature.
Data Protection
Just like computers, office copy machines have hard drives for data storage. This data can include:
Operating system info
Document copies
External contact info (e-mail addresses, fax numbers, etc.)
User logs
Printer activity logs
This is a potential goldmine of information for data thieves. Look for security features like hard drive encryption and encoding. Some commercial copiers ensure the scrambled data can't be read even if the hard drive is removed.
Overwriting
Overwriting refers to erasing data from a hard drive by replacing it with something else. This offers more digital security than simply erasing the file, which can be recoverable.
Many commercial copiers have automatic overwriting features. They can also add easy functionality for you to manually overwrite the drive at regular intervals. If your company prints sensitive or restricted data, this security feature is a particular must-have.
7. Eco-Friendly Features
Green initiatives have become very important to companies and consumers. Commercial copiers have exceptional potential for producing energy and resource waste.
Many copier companies prioritize eco-friendly features, while others offer them as add-ons. If your workspace wants to reduce waste, look for these green-friendly features.
ENERGY Star
The EPA's ENERGY Star program rates energy efficiency for commercial and household products. This includes imaging equipment like office copiers.
Many companies offer various power-saving features for office copiers. An ENERGY Star label means it's been verified to meet official certification standards. You can compare this rating with other office copiers that go below or exceed these standards.
Paper Waste
Paper waste is a big drain on companies and the environment. It chews up both office budgets and natural resources like forests, water, and non-renewable energy. It also makes up around 1/4th of total landfill waste.
There are office copier features that inadvertently reduce waste, like auto-duplexing and pull printing. Some companies also offer print monitoring that analyzes your paper usage and finds potential conservation areas.
Ink/Toner
Ink and toner also extract a heavy toll on the environment. Companies have added many different features to manage ink/toner impacts, including:
Biomass ink
Refillable tanks
Reduced ink/toner consumption
Recycled cartridges
Ink and toner cartridges contribute to e-waste, which is a significant environmental problem across the globe. Over 300 million cartridges are used up annually, with around 70% ending up in landfills.
Recycling
Along with ink cartridges, office copy machines themselves are another significant source of e-waste. Many companies manage waste reduction by offering recycling programs and support. They also focus on making products with recycled materials.
Find the Leading Office Copiers Near You With Our Select Services Today
Office copiers have many features, ranging from basic to high-end. They do everything from faxing to adding encryption and watermarks for secure documents.
Now that you know all the essential office copier tips, are you ready to order your next big office device? Our team offers premium services to help you find the perfect officer copier for your workplace. Get your free quote today!