How Much Does Commercial Cleaning Service Cost?
What do you know about the costs associated with a professional commercial cleaning service? You can read all about it here in this detailed breakdown.
Commercial Cleaning Cost Guide
The COVID-19 pandemic reminded us all of the importance of keeping a clean and sanitary work environment.
A clean workplace protects your staff and customers, boosts morale, raises productivity, and supports business growth. That's why keeping your place of business clean should be an essential part of your business plan.
If you and your employees don't have the time to clean, hiring a commercial cleaning service could make sense for you. Commercial cleaners handle routine janitorial services like vacuuming, sweeping and mopping, dusting, bathroom cleaning, and trash removal. Other commercial cleaners provide less frequent, specialty services like carpet shampooing and commercial grade window cleaning.
How do you decide which services you need for your business? And, how much do commercial cleaning services cost?
In this article, we will cover various commercial cleaning services available to business owners and the average costs associated with each. Keep reading to learn how to keep your workplace clean and sanitized!
Commercial Cleaning Companies: What Do They Do?
Commercial cleaning jobs run the gamut from small office dusting to extensive industrial cleaning. Some commercial services charge by the hour, some charge by the task, and others charge by the square foot. It can be challenging to determine how much you can expect to spend on commercial cleaning.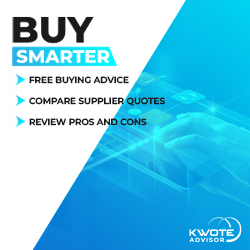 Here are standard commercial cleaning services and the average price ranges for each.
Janitorial Services
Janitorial services cover routine office cleaning like vacuuming, sweeping and mopping, kitchen and break room cleaning, cleaning bathrooms, and trash removal. Many businesses pay for janitors to clean daily, weekly, or multiple times per week.
Janitorial services cost $50-$100 per hour, on average. The price usually goes down for more frequent cleaning.
Commercial Carpet Cleaning
Businesses may opt for professional carpet cleaners to keep carpets looking and smelling fresh. Deep Carpet Shampooing is a specialty service generally performed every 2-3 months. High-traffic areas may need professional cleaning one to two times per month, whereas less frequented areas require cleaning as little as twice per year.
Carpet cleaners typically charge by the square foot at $0.10 to $0.40 per square foot — or $20-$50 per hour.
Floor Cleaning Services
Similar to commercial carpet cleaning, businesses with tile, hardwood, stone, or concrete flooring may pay for premium floor cleaning services. Experts recommend doing specialty floor services two to four times per year.
These types of services include:
Stripping
Waxing
Polishing
Sealing
Most floor cleaning companies charge by the square foot. Specialty services cost more than routine floor cleaning and can range anywhere from $0.30 to $0.90 per square foot.
Commercial Kitchen Cleaning
Commercial kitchens must meet strict health codes for cleanliness and hygiene. Professional commercial kitchen cleaners are trained to meet such standards when cleaning commercial kitchen appliances, surfaces, stainless steel, floors, walls, and exhaust systems and fans.
On average, commercial kitchen cleaning costs $40 to $160 per hour but can go higher if the kitchen has not been professionally cleaned in a long time.
Commercial Window Cleaning
Businesses with glass storefronts, large windows, or high-rise buildings employ professional window cleaners. Companies with windows in highly visible or "first impression" areas may have window cleaners come as often as every other week, with daily spot cleaning in between.
Generally, commercial window cleaning can be done as little as two to four times per year.
Window cleaners often charge by the piece with an average of $8 per window. Prices can vary dramatically for oversized windows, high-rise windows, and other factors.
Commercial Duct Cleaning
Air duct cleaning involves removing dust and other contaminants that build up in ductwork over time. Cleaning commercial HVAC air ducts and other air systems is a less frequent, specialty service. Most businesses can get away with cleaning ducts every three to five years.
Commercial duct cleaning is more expensive than residential — at approximately $70 to $150 per hour. Businesses with large HVAC systems or complicated, custom-made ductwork may have higher rates due to labor and time increases.
What Is Included in Basic Office Cleaning?
If your business operates out of an office, you would probably benefit most from general office cleaning services. What do those entail?
In offices, employees are expected to keep their own workspaces clean, wash their own dishes, and throw out old food in the refrigerator.
Beyond that, professional office cleaning services include:
Floor cleaning
Dusting
Bathroom cleaning
Kitchen/break room cleaning
Window/mirror cleaning
Trash removal
Office cleaning services are routine services in which a cleaning crew will come in — usually after hours — to clean daily, a few times a week, or once per week. Some business owners hire janitorial services in conjunction with more specialty, deep-cleaning services to be performed a few times per year.
Factors That Influence Commercial Cleaning Rates
Several factors affect what your particular commercial cleaning needs may cost. While you can expect your services to fall within a specific price range, the following factors may influence whether your estimate is at the higher or lower end of that range.
Square Footage
Many commercial cleaning services charge by the square foot. The bigger the space, the higher the cost because it will take more time, supplies, and staff to get the job done. The price per square foot tends to decrease as job size increases.
Time Needed to Clean
Some commercial cleaners charge by the hour. They may provide a free walk-through consultation to get an estimate of how many hours it will take to clean a space. The estimate can vary depending on the type and intensity of cleaning services required.
Labor
Larger jobs require more hands on deck. The more people needed to clean your business or office, the more the price will climb to cover everyone's wages.
Frequency
Will you pay commercial cleaners to clean your office daily, weekly, or just on occasion? Do you need a one-time clean? Typically, the cost per clean will go down as frequency goes up.
Type of Commercial Space
Some commercial spaces have more complex needs than others. Restaurants and hospitals, for instance, have strict cleanliness and hygiene requirements that may satisfy unique products, treatments, or highly trained technicians. Similarly, construction sites and industrial cleaning may have special needs with steeper price tags.
Specialty Services
Specialty cleaning services that don't need to be done daily tend to cost more than routine janitorial services. Suppose your business needs specialty services — such as carpet shampooing, duct cleaning, floor stripping, and window cleaning — done several times per year. In that case, you may add a hefty sum to your total commercial cleaning budget.
How Much Are Commercial Cleaning Rates per Hour?
Hourly rates for normal commercial cleaning range from $50 to $120. Higher hourly price tags may be attached to larger cleaning crews who may be able to clean a large space faster but must account for the wages of everyone on the team. Specialty services have higher hourly rates.
How Much Are Office Cleaning Rates per Square Foot?
Commercial cleaning rates per square foot can range from $0.05 to $0.20 per square foot. Here are the average price ranges for commercial cleaning by the square foot.
0-1,000 square feet: $120 – $300
1,000 – 2,000 square feet: $280 – $400
2,000 – 3,000 square feet: $230 – $350
3,000 – 4,000 square feet: $315 – $420
4,000 – 5,000 square feet: $405 – $510
5,000 – 6,000 square feet: $490 – $590
6,000 – 7,000 square feet: $575 – $675
7,000 – 8,000 square feet: $650 – $750
8,000 – 9,000 square feet: $750 – $845
9,000 – 10,000 square feet: $830 – $920
10,000 – 20,000 square feet: $700 – $1200
20,000 – 30,000 square feet: $1250 – $1450
30,000 – 40,000 square feet: $1450 – $1650
Please bear in mind that these are averages. Some cleaning services may charge higher or lower than average rates. If you have a unique or difficult-to-clean commercial space, you may have higher than average rates for your cleaning services.
Special Industries: Commercial Cleaning Services
Some industries have unique cleaning needs and require specialized commercial cleaning supplies. If you have a restaurant, medical office, construction site, or industrial service dealing with hazardous waste or toxic chemicals, or a business where cleanliness is especially crucial, the cost of commercial cleaning services may be unique to your industry.
How Much Do Restaurant Cleaning Services Cost?
It's essential that food preparation be done in a clean and safe environment. Commercial restaurant cleaning services involve cleaning and sanitizing the kitchen, bathrooms, and dining areas.
The heavy-duty cleaning takes place in the kitchen:
Cleaning and sanitizing all countertops
Cleaning and sanitizing stainless steel surfaces
Cleaning floors
Cleaning walls and ceiling
Deep cleaning broilers, cooktops, and appliances
Degreasing/cleaning exhaust fans
Degreasing/cleaning filters and ducts
The cost for such services can range from $20 to $150 per hour, on average. Some restaurant cleaning services provide lighter cleaning at a lower rate. You can expect higher rates for deep cleaning, degreasing, and less frequent tasks.
How Much Do Medical Facility Cleaning Services Cost?
Medical offices must be clean and sterile so as not to infect patients or spread disease.
Special medical cleaning services include:
Waiting areas
Offices
Exam rooms
Surgical suites
Imaging areas
Medical commercial cleaners must use hospital-grade cleaning products, understand microorganisms and bloodborne pathogens, and follow OSHA and JCASHO Standards. Sometimes commercial medical cleaners must dispose of potentially dangerous waste or materials. Many hospitals, medical departments, and doctor's offices have their own specific cleaning procedures.
Medical facility cleaning services cost more than standard commercial cleaning services. The average range is $40 to $60 per hour.
How Much Do Construction Cleaning Services Cost?
Construction site clean-up can be a heavy-duty job requiring specialists' help. There are two types of construction clean-up: rough clean-up and post-construction clean-up.
Rough Clean-up involves the removal of debris and building waste from an active construction site.
Post-construction cleaning refers to cleaning a new building shortly after construction is finished.
Some contractors handle the rough clean-up, some do not, and some hire it out to a cleaning service. Companies that specialize in rough clean-up typically charge $30-$700 for assistance, but huge jobs can easily cost in the thousands.
Post-construction cleaning generally involves the removal of dust, dirt, and debris left behind by builders. Post-construction cleaners will also give the newly finished building a top-to-bottom scrubbing to make the space move-in ready or ready to go on the market.
Post-construction services cost $35 – $60 per hour, on average.
How Much Do Industrial Cleaning Services Cost?
Industrial cleaning services offer clean-up of industrial facilities, including floor care, dusting, trash removal, bathroom and kitchen cleaning, and more. Industrial cleaning may also include heavy cleaning of specialized equipment that may require unique cleaning or handling methods.
Industrial cleaning services cost slightly more than standard commercial cleaning. Costs can range anywhere from $30 to $90 per hour.
Commercial Cleaning Service Price List
Perhaps you're wondering exactly what you're paying for when you hire a commercial cleaning service. Here is a list of everyday tasks and associated price ranges. 
Commercial Kitchen Appliances
Restaurant employees are typically responsible for handling kitchen clean-up each night at closing time, but what if your appliances need a deep cleaning?
Appliances in commercial kitchens include:
Commercial grills and griddles
Commercial ovens
Range hoods
Exhaust systems and fans
Commercial deep fryers
Bread proofing drawers and ovens
Prices may vary based on how dirty the appliance is or how long it has been since your last professional cleaning. Commercial kitchen appliance cleaning costs $50 to $150 per hour, on average.
Dusting
Dusting is essential to the health and wellbeing of your employees and customers. Dusting removes allergens and other contaminants from the air.
If you need to hire a commercial cleaning service to dust regularly, you can expect to spend about $10 – $30 per hour for their services.
Floor Cleaning
Floor cleaning can involve routine services like vacuuming, sweeping, and mopping, or specialty services. Floor cleaning services are often charged by the square foot.
Sweeping, Mopping, and Vacuuming: $0.05 – $0.10 per square foot
Ceramic Tile Cleaning: $0.10 – $0.20 per square foot
Concrete Cleaning: $0.10 – $0.25 per square foot
Floor Stripping and Waxing: $0.20 – $0.60 per square foot
Carpet Shampooing: $0.10 – $0.40 per square foot
Window Cleaning
Window cleaners often charge by the window. Depending on the size, you can expect to spend $5 to $15 per window, with $8 being the national average.
The cost rises dramatically for high-rise window cleaning due to the danger of the work. There must be at least two workers present for safety bringing the price up to $90 to $200 per hour.
Bathroom Cleaning
If you have a small office, you may need someone to come in occasionally and clean the bathrooms. Commercial bathroom cleaning typically runs from $90 to $120 per bathroom.
Break Room Cleaning
Office break rooms are high-traffic areas requiring deeper cleaning than workspaces. Commercial cleaners will likely charge $0.08 to $0.15 per square foot to clean a break room or approximately $40 per hour.
Trash Service
Commercial trash services can range from hiring cleaners to take your trash out to extensive dumpster services and commercial junk removal.
If you need to pay someone to take the trash out at your business, it will likely cost $30 to $50 per month.
More extensive trash removal services will cost more.
Commercial Dumpster Service
Renting a dumpster costs, on average, $300 to $500 per week plus dump fees of $50 to $70 per ton.
Depending on the size of the dumpster, renting a dumpster on a permanent basis will usually run $100 to $300+ per month. Pick-up service can cost $100 to $230 per month.
Commercial Junk Removal
If you need large items like appliances or furniture hauled away, you may need to hire commercial junk removal. Junk removal costs $130 to $370 on average, but if you need to fill an entire truckload, prices can reach up to $800. Removal of one large item typically costs $50 to $150.
Choosing a Commercial Cleaning Company
When choosing a commercial cleaning company, you can work with a small, local cleaning service or a larger national chain. Did you know there are even international commercial cleaning services? No matter where you are located or how many facilities you need to be cleaned, you are likely to find a franchise serving your area.
Here are a few of the top national office cleaning companies in the United States.
ServiceMaster Clean
In business since 1929, ServiceMaster Clean is one of the largest commercial cleaning services in America. It is headquartered in Memphis, Tennessee, and serves 75,000 homes and businesses worldwide.
ServiceMaster Clean provides all commercial services to all industries, including janitorial services, industrial cleaning, COVID-19 cleaning, and green cleaning. They specialize in healthcare facilities, with over 60% of the franchise network servicing hospitals, doctor's offices, or other healthcare centers. ServiceMaster Clean also offers specialty services such as air duct cleaning, floor cleaning, and upholstery cleaning.
No company is too large — ServiceMaster Clean offers national accounts for companies with upwards of thousands of locations.
JAN-PRO Cleaning & Disinfecting
JAN-PRO Cleaning & Disinfecting is a commercial cleaning franchise that handles cleaning services for businesses of all industries. Founded in Atlanta, Georgia, in 1991, the company has grown to over 8,000 franchises worldwide.
The company specializes in large cleaning jobs such as hotel and resort cleaning, hospitals, movie theater cleaning, stadium and arena cleaning, and more. They also offer standard commercial cleaning services for office buildings, daycares and preschools, auto dealerships, fitness centers, industrial and manufacturing facilities, and more.
JAN-PRO was named the #1 Commercial Cleaner by Entrepreneur's "Franchise 500 Ranking" for 13 years in a row.
Coverall
Coverall has been a leading commercial cleaning service since 1985. The company offers one-time cleaning, specialty and maintenance services, and daily janitorial services.
Coverall has some unique maintenance offerings, including upholstery, grout scrubbing, and commercial-grade window cleaning. They can handle all types of commercial cleaning jobs, including medical and industrial facilities, office buildings, fitness centers, schools, and retail buildings.
It emphasizes safety by using The Coverall Program® to clean industrial spaces and prevent slip and fall hazards.
Jani-King
Headquartered in Addison, Texas, Jani-King is the largest commercial cleaning franchise in the world. It has over 7,500 franchises around the globe.
The company cleans commercial facilities of all kinds, including healthcare centers, stadiums, sports arenas, restaurants, universities, and manufacturing facilities. Jani-King also has special green cleaning services available upon request.
Jani-King promotes its hospitality services with a portfolio including hotels, resorts, casinos, and cruise ships. It also emphasizes superior cleaning procedures for medical facilities of all kinds.
Vanguard Cleaning Systems
Vanguard Cleaning Systems was founded in 1984 and today has more than 2,500 janitorial franchises in the United States and Canada.
Vanguard offers janitorial services to commercial facilities, including offices, medical and healthcare facilities, schools, warehouses, and industrial buildings.
The company uses an electrostatic disinfection process, green cleaning, commercial floor cleaning, commercial grade window washing, and commercial grade pressure washing.
CleanNet USA
CleanNet USA is a commercial cleaning franchise with 35,000 locations in the United States and Canada. CleanNet has been in business since 1987 and is headquartered in Vienna, Virginia.
CleanNet USA offers janitorial services for commercial facilities of all kinds, plus handyman services, painting, pest control, commercial window cleaning, pressure washing, and air duct cleaning. It works with companies of all sizes and offers national accounts.
The company heavily promotes its green cleaning services with LEED certification, recycling services, and Green Seal Certified products.
Working With a Locally-Owned Commercial Cleaner
Some businesses choose to work with locally-owned commercial cleaning companies. You can find local companies with an online search, on social media, or via word of mouth. Ask local cleaners to provide client testimonials or read reviews online to get a feel for their level of customer service.
Not sure where to begin? Kwote Advisor makes it easy to compare quotes from brands all over the United States.
Get Quotes: Commercial Cleaning Services
Keeping a clean work environment is vital to the health and wellbeing of your employees and customers.
No matter what kind of commercial facility you have, there is a commercial cleaning service to fit your needs and budget. Factors that affect costs for commercial cleaning are square footage, hourly rates, labor, frequency, and type of project.
If you're in the market for commercial cleaning services, it is best to compare quotes from multiple companies. You can research commercial cleaning companies online to discover which option is best for you.
Click here to compare free office cleaning quotes today!